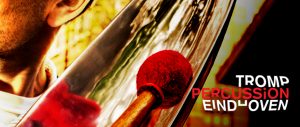 TROMP Percussion Eindhoven
Dr. Ir. Theo Tromp founded the Tromp Biennial in Eindhoven in 1970 because he felt young people had too few opportunities. Over forty years later the TROMP International Percussion Competition has become the leading competition for solo percussion in the world, the ideals of its founder close at heart, creating opportunities and a stage for young percussionists from around the world.
TROMP also invests in new audiences and repertoire for percussion. Every edition, compositions are commissioned to leading composers and new audiences are invited to visit the festival. TROMP provides master classes in solo percussion repertoire with members of the jury and laureates for potential candidates in Boston, Shanghai, Moscow and Tokyo during the Repertoire Days, previous to the competition.
The Competition
TROMP invites talented percussionists around the world to apply for the competition, not just to compete for trophies but to meet as colleagues. The TROMP competition is praised by participants for the relaxed atmosphere in which close friendships and special collaborations are forged.
Investing in the future careers of the winners, TROMP provides various concert engagements in internationally acclaimed concert halls and festivals, both solo and with prestigious international ensembles. Among the laureates of TROMP are renowned musicians like Claire Edwardes (Australia), Yi-Ping Yang (Taiwan) and Alexej Gerassimez (Germany). All winners have proven to be excellent musicians, with emerging careers.
TROMPs membership of the very selective World Federation of International Music Competitions (WFIMC), which is only on invitation, reflects a global recognition: "The level of professional development for the careers of the most talented young percussionists by TROMP is highly admired by the World Federation of International Music Competitions."
The Festival
The festival happens simultaneously to the competition in Muziekgebouw Eindhoven and various locations throughout the city. It offers young talent the chance to meet with and perform alongside internationally known percussionists. Offering various manifestations of percussion, leading artists perform in unique line-ups and crossovers, from classical to dance and pop music. The past editions featured artists like Glenn Kotche, Jeff Mills, NOISIA, Han Bennink, Gary Burton, Stewart Copeland, Pete Lockett, Keith Carlock, Les Tambours du Bronx and Slagwerk Den Haag.
TROMP laureates are also invited to perform in the festival as solo artists or with their ensembles, special projects or alongside laureates of other competitions or even world famous musicians. Fist prize winner of TROMP 2012 Alexandre Esperetperformed with his Trio SR9 alongside the New York percussion ensemble Sõ Percussion. First prize winner of 2014 Dominique Vleeshouwers performed with his project Playground in club nights and he performed in classical concerts alongside Arthur & Lucas Jussen and Lavinia Meijer.
The festival ends with the TROMP 2018 Finale as a festive and exciting gala concert with the announcements of the competition winners. Finalists and laureates perform with renowned ensembles like Asko|Schönberg.