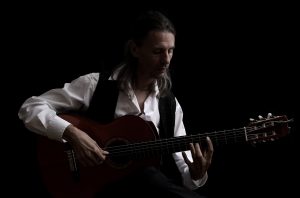 Well known as flamenco guitarist "el Periquin", Peter Kalb is guitarist, composer and teacher. As of 2021 he recorded nine CDs, all very well received by the press, on which he can be heard, playing his own compositions.
For more than 25 years he performs in leading theatres all over the world in Spain, Mexico, North America, Germany, Luxemburg, Finland, Portugal, Morroco, Georgia, ect.
On several occasions he was invited to play at the International Flamenco Biennale in The Netherlands and Spain.
Teaching at the conservatory in Arnhem (the Netherlands) he is a worldwide acclaimed teacher and gives workshops and master classes.
Well known flamenco artists he performed, recorded and worked with, includes Carles Benavent, El Paquete, El Piraña, Andres Marin, Joan Albert Amargos, Naike Ponce Gonzalez, Paco Javier Jimeno, Ana Fargas, El Piculabe, Rafita de Madrid, Sabu Porrina, Carmen Cortes, el Ciro, Yelsey Heredia, Elena Andujar,Yeye de Cadiz and many more.
Many times he has been invited to play together with big names from the jazz scene, such as Stochelo Rosenberg and the Rosenberg trio, Laura Fygi, David Lenker, Augustin Carillo, Madeline Bell, Amina Figarova, Martin Verdonk, Cor Bakker, Gypsy Boys, Paul Schaefer, Paul van Kemenade, Tollak Ollestad, Izaline Calister etc.
Several classical orchestra's discovered his compositions and invited him to perform arrangements of his compositions with him; the royal Concertgebouw Orchestra in Amsterdam, the Nieuw Ensemble with Ed Spanjaard, the royal military Capel "Johan Willem Friso". At the "Gipsy Proms" with the Philharmonic Orchestra from Bocholtz, conducted by Heinz Friesen, he performed Concierto de Aranjuez by Joaquin Rodrigo.
Follow El Periquín @ Spotify